Key holding and Alarm Response in Stockport, Cheshire and Greater Manchester, North West, England
Business Security and Home Protection Solutions are part of the key holding services Cheshire Keyholding Ltd provides.
Prices on request for standard annual key holding fees for domestic or commercial, rates can apply monthly or yearly. We will beat all like for like key holding quotes.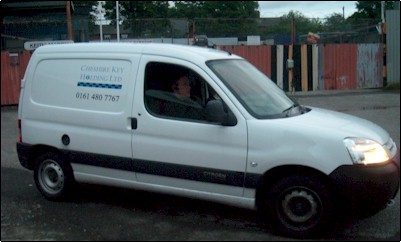 PRICE PROMISE from Cheshire Keyholding Ltd
Price guarantee if you have a written renewal or written quotation for key holding and alarm response open and close visits or nightly patrols we will beat that price.
PLUS: If you have any time left on your contract with another key holding firm we will extend your contract to cover that time. So if you have eight months left for instance, your fee will cover the next twenty months.
What is key holding and alarm response about?
Key holding and alarm response is an extremely cost-effective way of making sure your business is protected to your best abilities, giving peace of mind and the reassurance that experienced operatives are close at hand to deal with any security issue that might arise.
For a small annual fee, your keys and alarm codes are held at a secure location and your business can be re-secured should a break-in or an alarm call occur.
Many of our existing customers cannot imagine how they ever managed without our services in the past and we are confident that any company or individual who uses our services will feel the same.
Our staff are fully SIA trained and vetted each having a significant number of years experience within the security industry. We have built our reputation on the flexible service we provide to satisfy our clients' individual needs. Cheshire Keyholding Ltd is Safe Contractor approved and members of the Greater Manchester Chamber of Commerce. Our managing director Mr Edward Clarke is also a member of EPIC (Integrity Assured) and the Federation of Small Businesses
What questions should you ask yourself when considering your key holding services?
Is my business contravening health and safety regulations by asking a lone member of my own staff to lock and unlock the premises, or to respond to alarm calls outside of normal working hours and will this affect their operational performance during normal working hours?
Will my insurer reduce costs if I use a professional key holder?
Do I really want to get out of bed at 3am?
Do I want to encounter a possibly hostile situation and deal with the consequences and aftermath?
Does my key holder service accept speech dialer's?
Can I afford NOT to have a key holding service?
If the answers to any of these pertinent questions rings alarm bells then Cheshire Keyholding Ltd is here to address your security-management concerns.

We remove the worry about the security of your business or residential premises
Our committed and reliable team by our 100% family owned firm will assume responsibility for the protection of your premises outside normal working hours. Allowing you and your employees to get on with what you do best - running your business. Our quality security solutions provide you with peace-of-mind.
Cheshire Keyholding Ltd Services
Key Holding and Alarm response
On average, a company may have between 4-7 alarm calls per year, which can affect the productivity of that company and staff who may already hold keys. Our team of experienced operatives are trained in attending a site and re-securing the premises when an alarm call occurs. However, if a break-in has occurred our extensively-trained team can deal with any scenario from liaising with the police, to boarding broken windows and securing your premises and goods until your arrival.
Open and close services
Open and close services are ideal for the customer who can not always be available to open and close their premises each day. This service not only relieves the pressure of responsibility on staff who are uncomfortable to be left on their own with this job, but also gives peace of mind for the owner, knowing their business is secure every day.
Patrol Visits
Simple patrol visits are useful in deterring thieves from entering your property and are ideal for facilities that are not regularly occupied.